The jury meetings this year got a flying start. The meeting with Ulrika and Tim was booked and Mårten was on a visit to Sweden and Stockholm. This is why two meetings were held the same day.
ULRIKA LINDROTH o TIM EKSTAM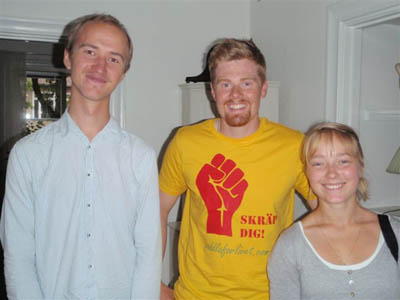 Approved by the jury 2013 August 30
The meeting was started in usual and familiar order by scrutinizing maps. But time for some amusing talk and remarks of experiences was also given.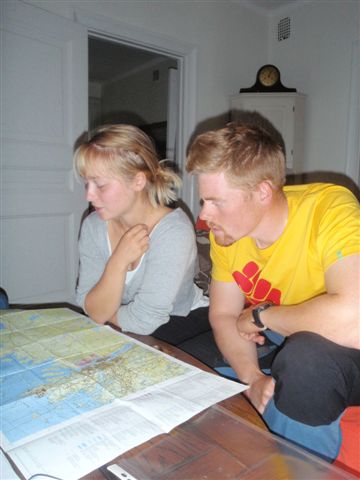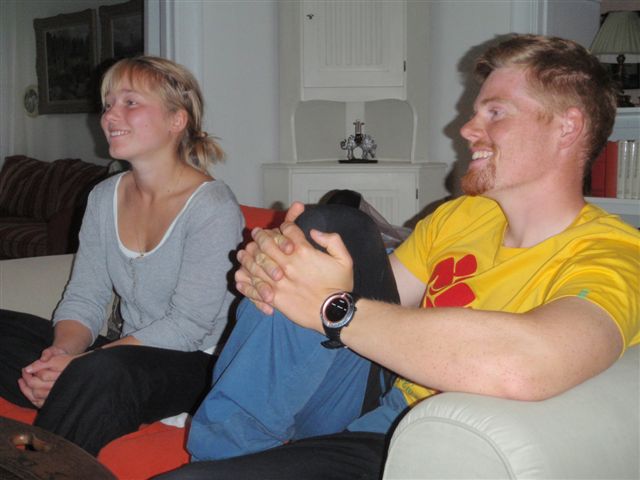 Sure there were many nice memories after their 90 days in kayaks and tent. During their tour they also cleared beaches and water from all kinds of waste.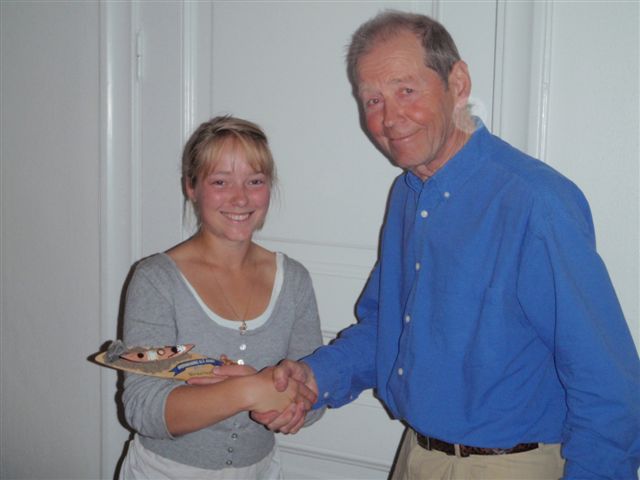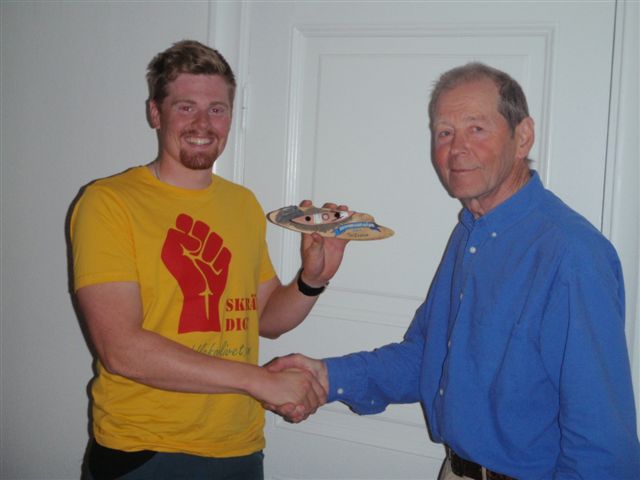 The meeting went on as Jim handed over the miniature kayaks they had booked as a memory from their mow approved challenge of Seapaddler's Blue Ribbon of Sweden.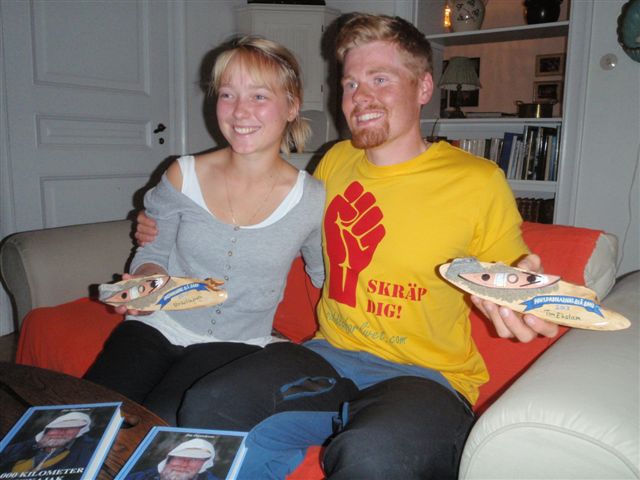 Ulrika and Tim were pleased and satisfied to have been approved and gladly show their souvenirs from this jury meeting.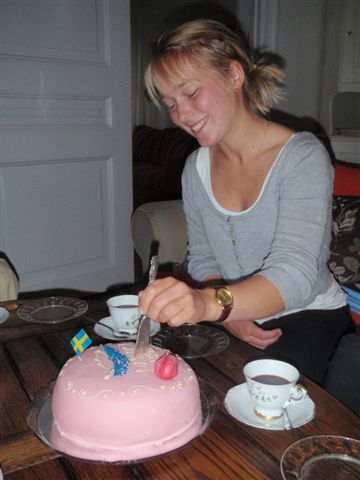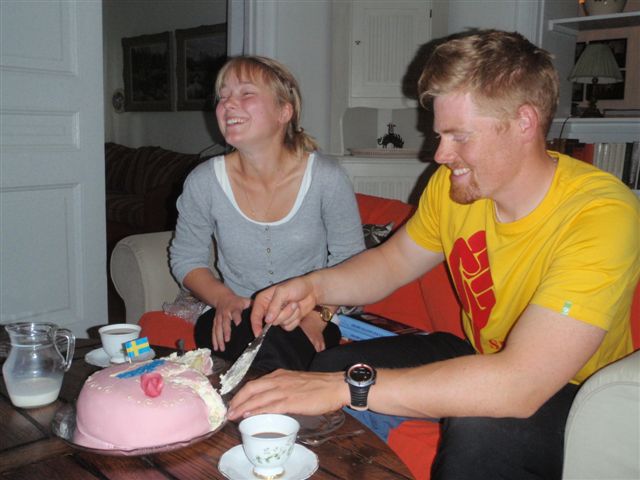 The tart that paid attention to Ulrika could then be enjoyed with pleasure together with Tim, who wasn't mentioned in its decoration, but we hope the taste lasted longer than the tart.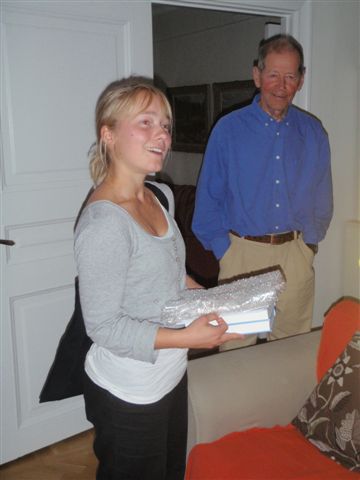 The meeting this morning was now finished and it was time to collect Mini kayaks and books.



MÅRTEN WETTERBERG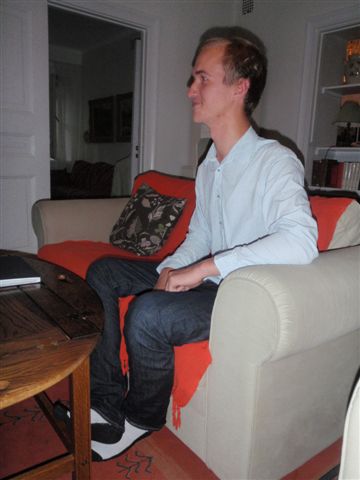 Approved by the jury 2013 August 30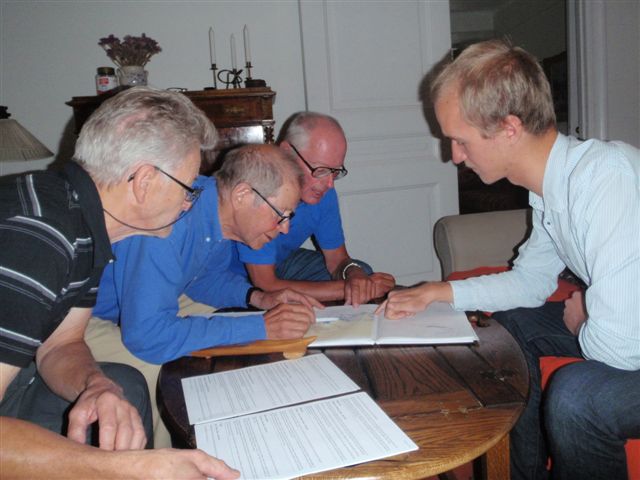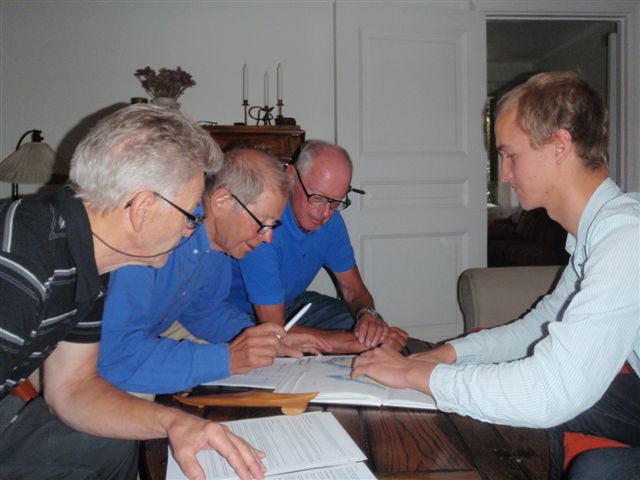 The jury assisting Jim this day were Thorvald Nielsen, Sven Berggren and Bengt Larsson. As Mårten arrived they were at hand. The jury was warmed up and could in god mood scrutinize the maps, that Mårten seems to have made a book from.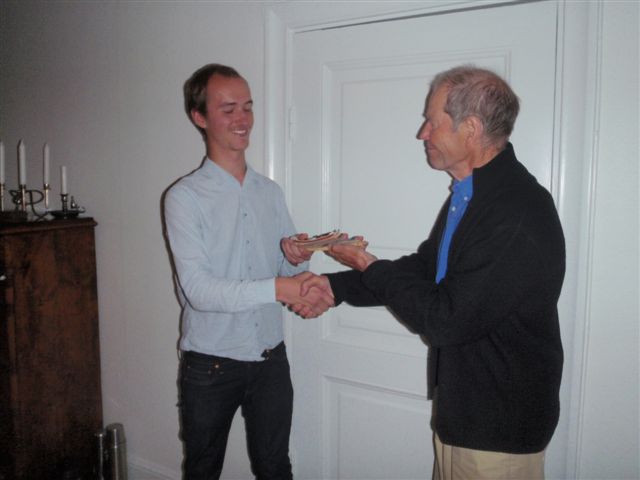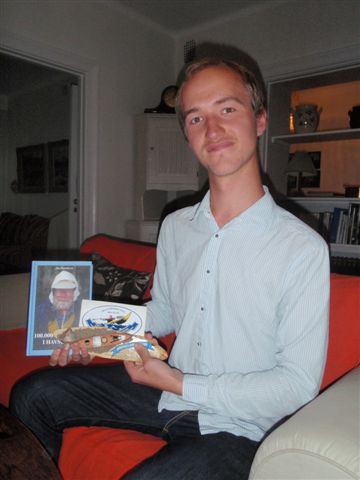 With our congratulations could also this meeting be ended with approval.



ANN-KRISTIN SKINLO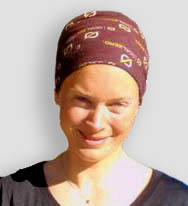 Approved by the jury 2013 September 08
After her reach of goal remained the road back home. So it is for all, as we not yet have had anybody living in Haparanda paddling HBB. Ashore at Sundholmen (Virtakari Crest) was Pål eagerly awaiting his partner to come. Surely a dear reunion after 49 days even if Pål had co paddled with Ann-Kristin in the beginning. On their way back home liked Ann-Kristin to pass the jury meeting and Jim used to unplanned situations from his kayak managed to summon Thorvald Nielsen and Bengt Larsson.Bengt and his wife Anita invited Ann-Kristin and Pål to stay the night.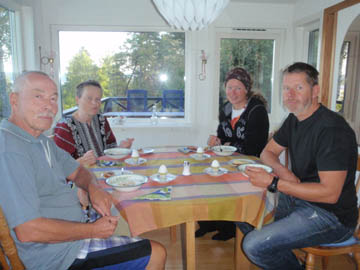 Photo: Bengt, Anita, pål and Ann-Kristin.
This is why the day started by a Breakfast at Granatvägen.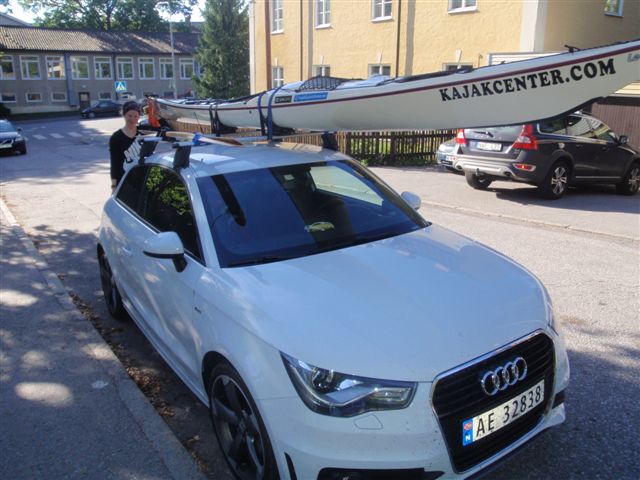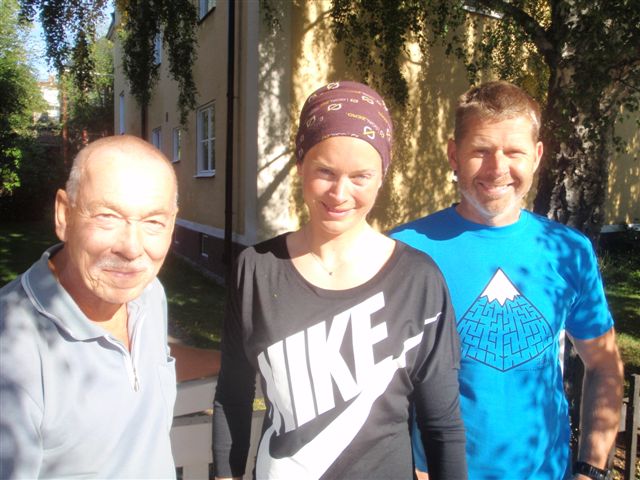 Photo: Bengt, Ann-Kristin och Pål
After breakfast went Ann-Kristin, Pål and Bengt to Stråkvägen and the jury meeting where Bengt also this time was photographer.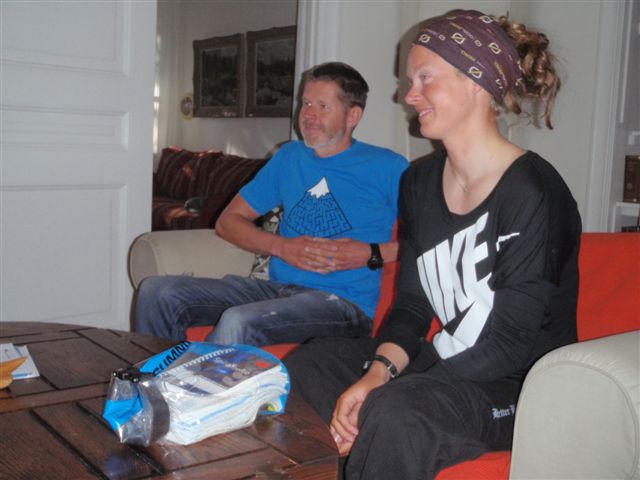 Photo: Pål och Ann-Kristin
The maps kept in good order were. Not in a book, but well stored even though she just arrived from the finishing point. According to her blog she has not had time to visit her hairdresser - yet, but managed it by a cloth.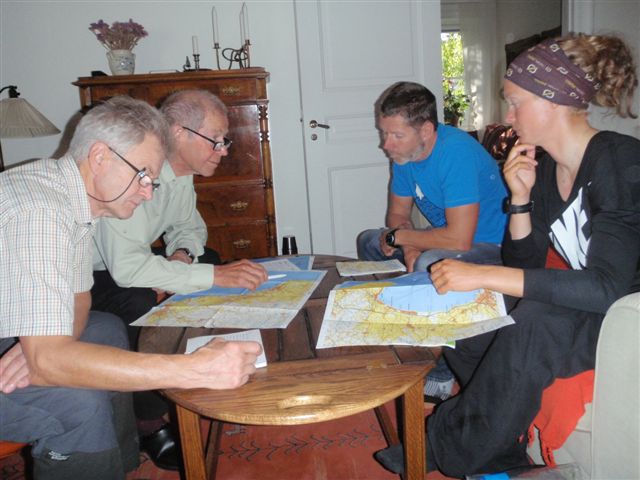 Photo: Thorvald, Jim, Pål and Ann-Kristin. Right photo: Bengt - self-portrait to the back-ground of the meeting. Thorvald assists Jim in scrutinizing her track and sometime there is an additional question or a friendly comment. Mutual memory or observation.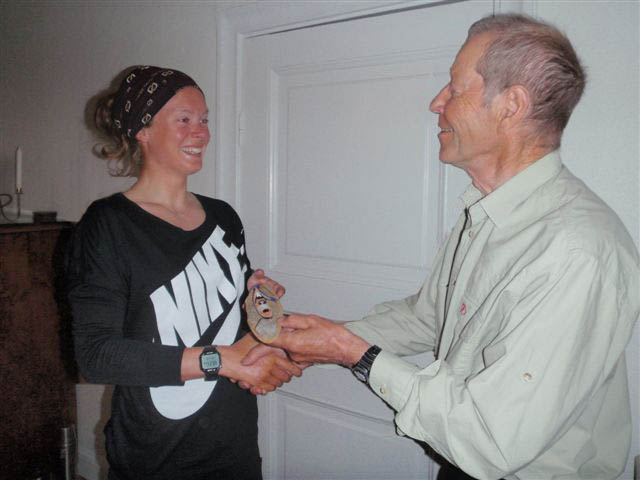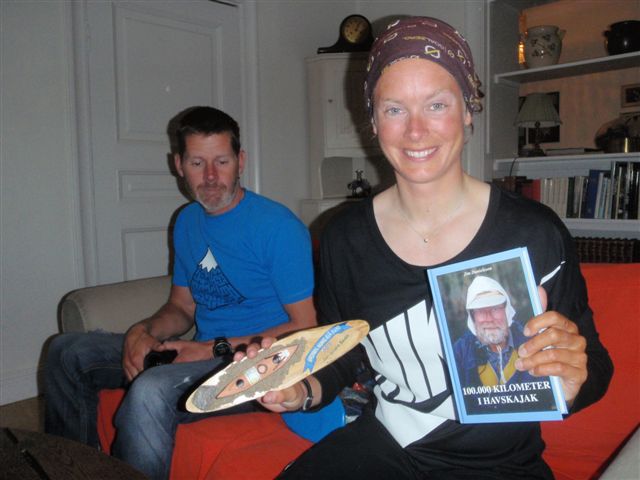 Here is Ann-Kristin receiving her Miniature kayak and has by this got her paddling approved and made an approved conqueror of The Seapaddler's Blue Ribbon of Sweden as the first Norwegian paddler. This might influence in how she looks at the souvenirs and the happiness is her well deserved.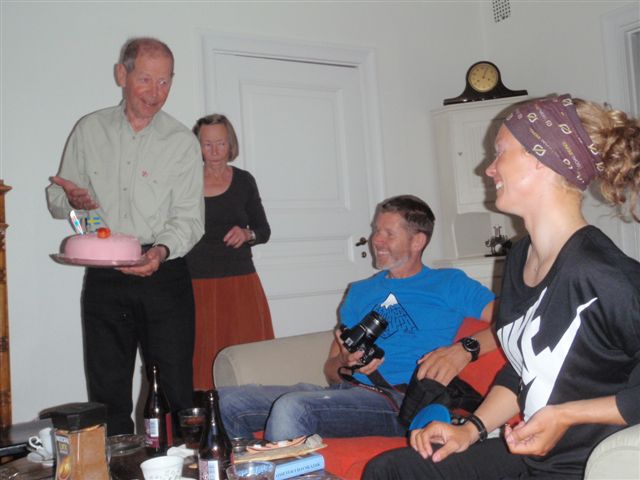 The master of tarts comes together with Gun. The meeting is closing in on its finish, but first the taste of sweetness. Sweet as it should in the shape of a special made tart.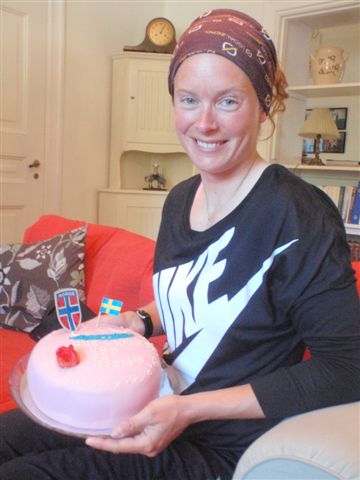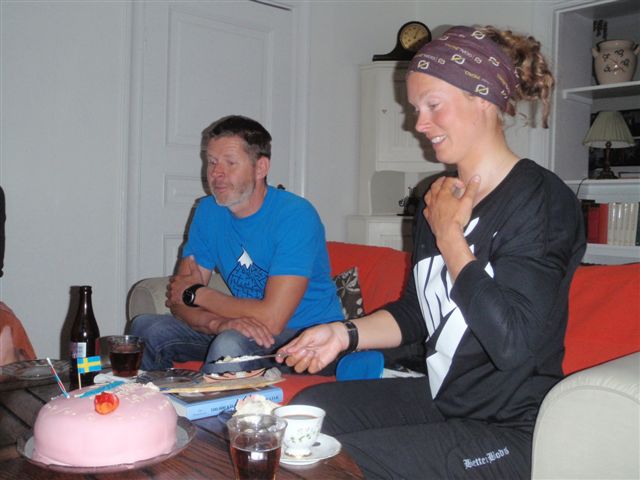 The tart was received with happiness even if a bit surprising, but was enjoyed and gave energy to go on with way back home. To us remains only to congratulate from our hart.



PETER SJÖDIN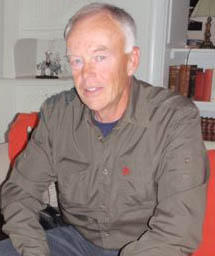 Approved by the Jury 2013 September 28 - second time

At Peter's last jury meeting (2007) was our photo library started. They have grow to photo-reports. As it mostly is the same proceeding it is time wasting trying to find new interesting ways to put the text together corresponding to the similar photos. Thats why we start a new radical way with less photos and less texts.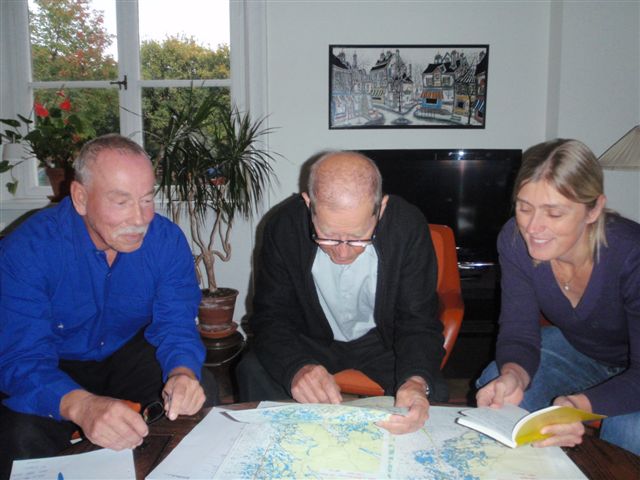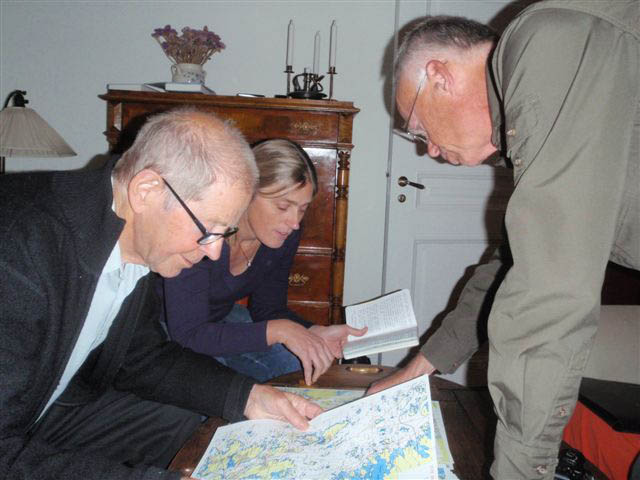 For this day had Louisa Rolandsdotter and Bengt Larsson arrived to assist Jim. A sudden occurring question was solved as three wise heads were brainstorming together. Everything was in god order and Peter surely had his earlier well kept in his mind that also turned out to his satisfaction.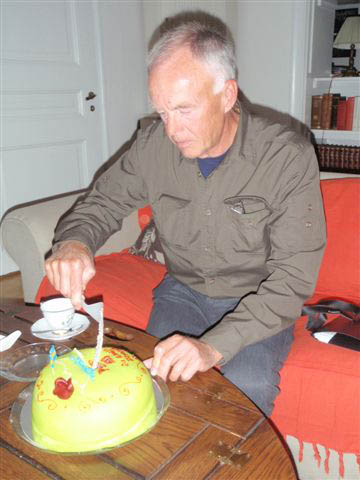 In order to more accurate pay attention to his second conquering of HBB was a tart served that tasted excellent.



PETER NILSSON
Approved by the jury 2013 September 28 - Meeting over the telephone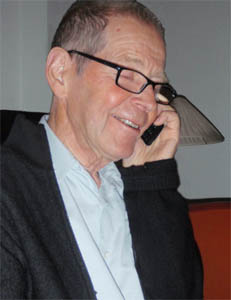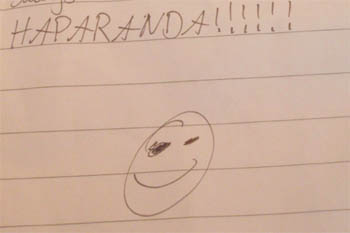 The first meeting over the phone turned out well and it was not without joy to Jim and assisting Bengt Larsson could inform Peter their approval. Peter had early during his tour abandoned to be bound to our rules. He continued to Haparanda and it showed that he after all didn't break any rule. He was therefor invited to pass the jury meeting.
From his logg book one easily understand his happiness reaching Haparanda according to his plan. To us remain only to feel joy in this happy final of a sad thing.



JONAS PETERSON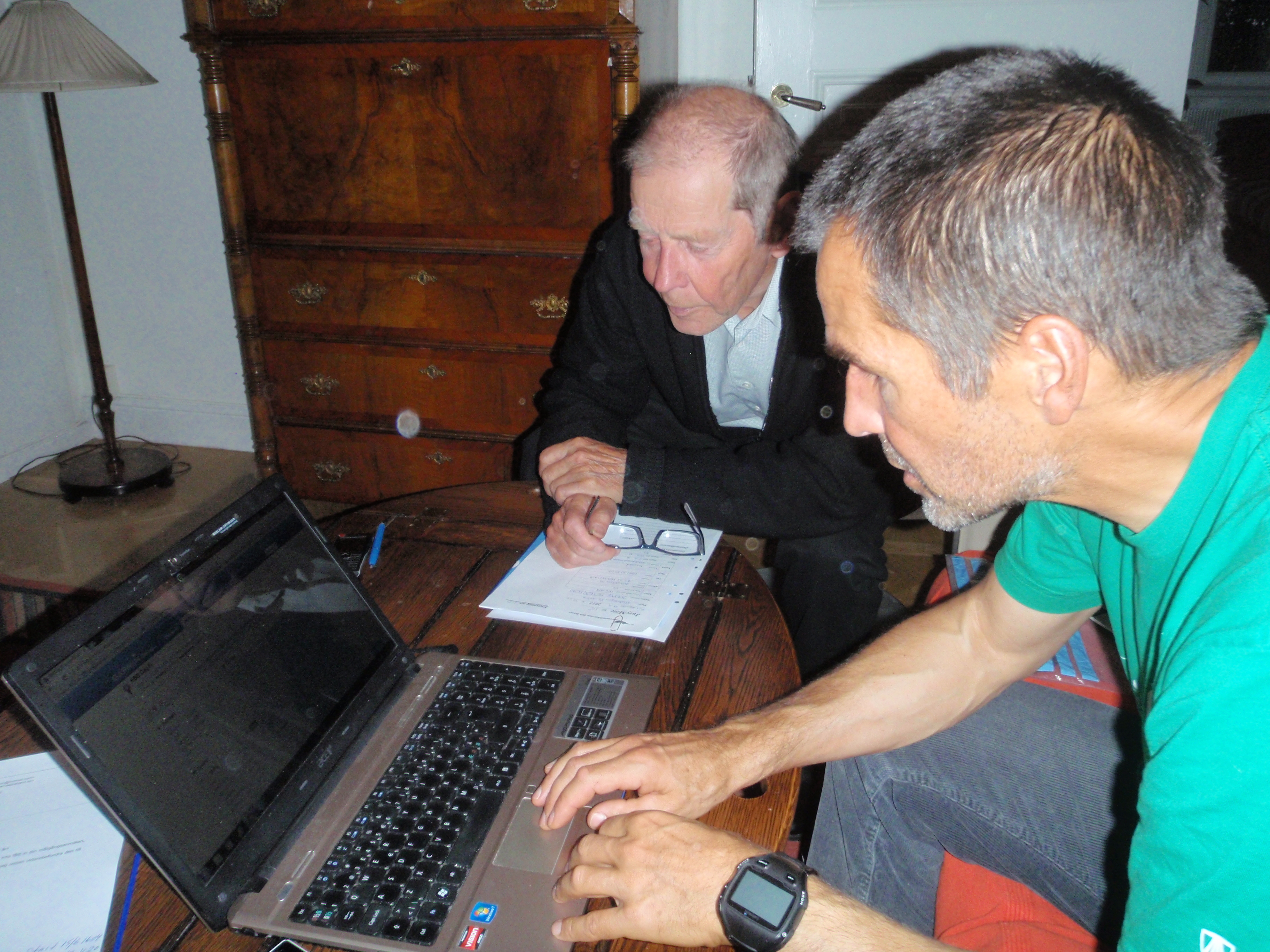 Approved by the jury 2013 September 28
At this meeting were apart from Jim also Louisa Rolandsdotter and the frequently photographer Bengt Larsson present.
Jonas kept all notes from the tour in his computer.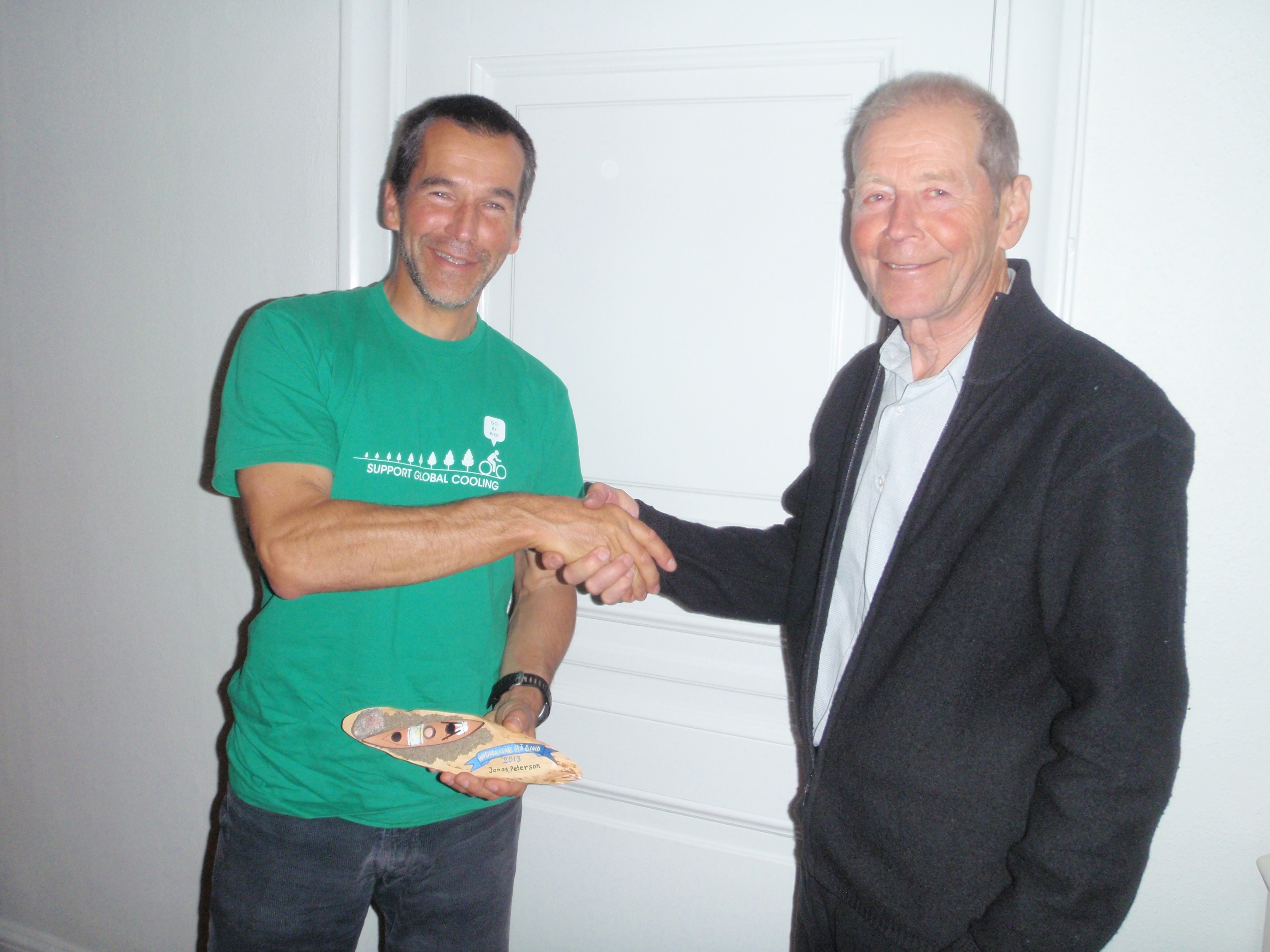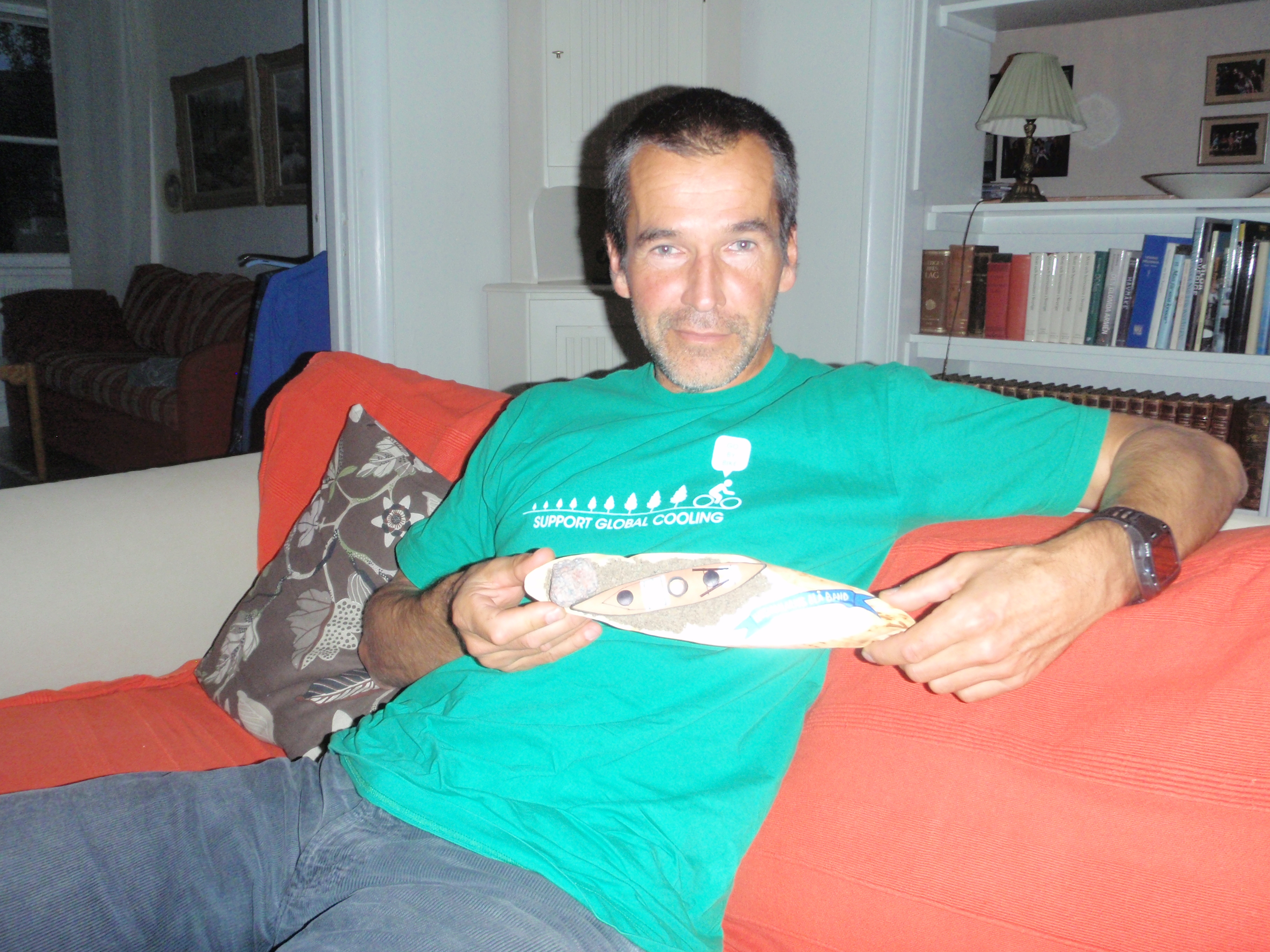 As all were in good order he could receive the miniature kayak and be proud of being an approved paddler of HBB.




Links to the years:
2007 and 2008 | 2009 | 2009 Special | 2010 | 2011 | 2012 | 2014 | 2015 | 2016 | 2018 | 2019 | 2020